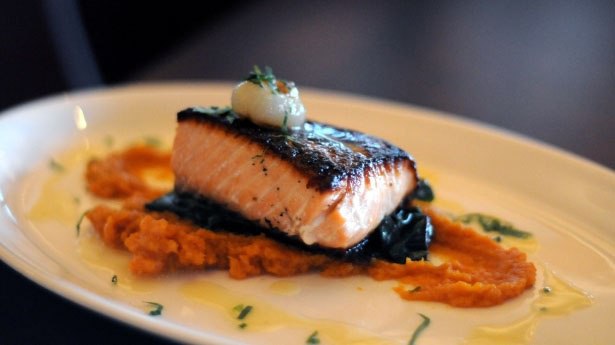 Living in Mosaic District, you don't have to venture far to have a romantic night out. TRIO Grill, a modern American restaurant from the folks behind the CIRCA restaurants, embraces the art of the date night with excellent ambiance, an unbelievable menu ranging from the finest steaks to the freshest seafood, and an extensive beverage program run by a master mixologist. TRIO is located at 8100 Lee Highway, just moments from Mosaic District.
To prime you for your next special night out, we asked Aaron Rentfrew, General Manager and Sommelier at TRIO, to offer some standout menu items and wines:
Starting this fall, TRIO's menu will play up its light items, debuting exciting entrees like marinated and grilled jumbo gulf Shrimp with Georgia stoneground grits, as well as a Fresh Seasonal Fig Salad. These newcomers join the likes of TRIO's legendary Branzino.
Lighter items aside, TRIO is known as a place for steaks and chops. Try a New York Strip with the Pio Cesare l'Altro Chardonnay (Piedmont, Italy 2010), which is approachable and drinkable throughout dinner and pairs well with all kinds of meats, or the Buehler Cabernet Sauvignon (Napa Valley, CA 2011), whose medium-high tannins and medium-full body suits red meats well.
Additionally, our ribeye and lamb both pair excellently with the Honig Cabernet Sauvignon (Napa Valley, CA 2011). This vintage features estate-grown fruit with full body and full expression of the grape and solid tannins for nice fruit and oak flavors.
Think of TRIO Grill when you plan your next date (or any special night out with friends and loved ones). Stop by the Mosaic District sales center for a special voucher to use on your first visit to TRIO. See you there!