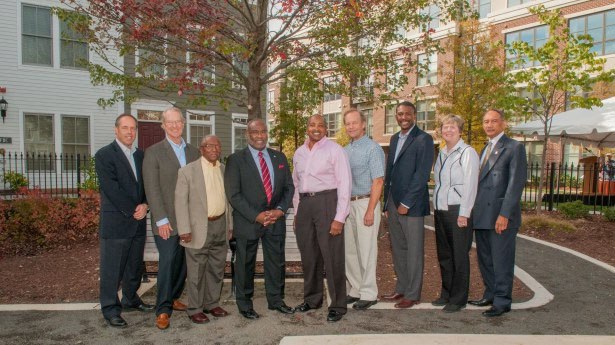 Pictured left to right: EYA President & CEO Bob Youngentob, EYA Chairman Terry Eakin, ARHA Board Member A. Melvin Miller, Alexandria Mayor William Euille, ARHA Board Chairman Merrick Malone, ARHA Board Member Karl Sandberg, EYA SVP Brian Allan Jackson, ARHA Board Member Carter Flemming, ARHA CEO Roy Priest
On Tuesday, October 28, 2014, EYA gathered with Alexandria Mayor Bill Euille and Alexandria Redevelopment and Housing Authority (ARHA) for a Completion Ceremony at Old Town Commons.
About 100 partners, consultants and business leaders attended the ceremony, which celebrates the six-year redevelopment effort. What was once five city blocks of outmoded public housing at the James Bland Housing Site is now a vibrant mixed-income neighborhood in the heart of Old Town Alexandria.
The redevelopment is a model for the preservation of public housing and public-private partnerships. EYA, ARHA and the City of Alexandria worked closely together to work through a host of complicated development decisions and designs. Today, Old Town Commons is smart, green, livable and worthy of emulation, thanks to the dedication of countless consultants, employees and partners.
The community has won numerous local, regional and national awards, including:
ULI Award of Excellence,

2014 Finalist, Jack Kemp Workforce Housing Models of Excellence

National Association of Housing and Redevelopment,

2014 Best Use of a Public-Private Partnership

Best in American Living Awards (BALA),

2013 Gold Award, Neighborhood of the Year

Delta Associates Awards for Excellence,

2013 Best Mid-Atlantic Neighborhood Impact Condominium Community

Virginia Housing Awards,

2013 Governor's Award, Best Mixed Income Project

The Great American Living Awards (GALA),

2011 Best Interior Merchandising,

2011 Best Designed Architecture,

2010 Best Green Community,

2010 Most Innovative Infill Neighborhood
The public rental apartments are now complete and the condominiums are sold and occupied. A limited number of new townhomes remain for sale. Learn more at http://www.eya.com/Old_Town_Commons.